New Bone Broth Protein Available!
<![CDATA[Great news!  We now have Bone Broth Protein available at our office, Lake Norman Integrative Wellness& Wellness! Discover the ultimate low-carb, low-sugar superfood to support gut health, a healthy metabolism, healthy muscles, joint comfort and healthy, glowing skin.We will be selling the popular Bone Broth Protein that Dr. Josh Axe sells on his own website.  This will be a good supplement for many of our patients!  Dr. Green will be educating patients about these new products!  In the meantime, here is some additional information from Dr. Josh Axe's website.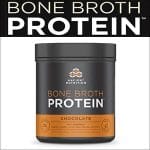 Introducing Bone Broth Protein
It's a breakthrough in protein supplementation that delivers the benefits of homemade bone broth in a convenient, easy-to-mix form.
Neutral Flavor Mixes Great in Water, Juices, Smoothies or Your Favorite Recipes
20g of Protein per Serving, No Carbs, No Sugars
Gut Friendly, Paleo Friendly
Contains Collagen Type II; Glucosamine; Chondroitin; Hyaluronic Acid; And 19 Amino Acids
PCR Tested Free of Genetically Modified Ingredients
Bone Broth Protein begins as a true bone broth liquid. It's then dehydrated, making it into a concentrated source of high-quality, tasty powder.A quality Bone Broth Protein Powder comes with the
same benefits of a homemade broth
, but it's also just as beneficial for digestion and even more
versatile in so many recipes
.Bone Broth Protein
supplies 20 grams of muscle-building protein
to support healthy muscle building, maintenance and metabolism.
HEALTHY JOINTS, SKIN, MUSCLES AND DETOX
Supports healthy joints, skin, muscles, and digestion
Supports healthy skin and aging
Boosts energy during the day
Supports healthy metabolism
Mix In Protein Shakes, Smoothies and Juices
Dairy Free | Soy Free | Grain Free | Gluten Free
Suggested Use
Suggested Use:
Mix one level scoop (included) in 12 ounces of water, juice or in a smoothie or protein shake one or more times per day. Great with almond, cashew or coconut milk or added to your favorite recipe. Can be enjoyed warm or cold.Because Bone Broth Protein Pure is mild-tasting and unsweetened, it is versatile enough to mix it with any hot or cold beverage you choose. With its slightly savory flavor, Bone Broth Pure is an obvious addition to soups, stews and casseroles, but also easily mixes with smoothies, pancakes or just hot water!
Source: 
Dr. Josh Axe
]]>