Meal Planning Is Important To Good Health
<![CDATA[A common problem in households all over America is that we're all so busy and over committed that it's hard to eat healthy and stay on track. And eating healthy at home….forget it! You've probably thought "if I only had the right foods in my kitchen, I would do a better job of eating healthy and staying on track." A good solution to this problem: meal planning! Ah, okay so meal planning isn't glamorous but it is a huge contributing factor to staying on track and following a healthy eating plan! 80% of Americans eat fast food at least once a month and many Americans find themselves eating out weekly, just to keep up with the fast paced lifestyle!Meal Planning 101 Basically meal planning is simply planning ahead for the week and shopping for a week's worth of meals/groceries. Simple!Here are a few tips to help you get started meal planning: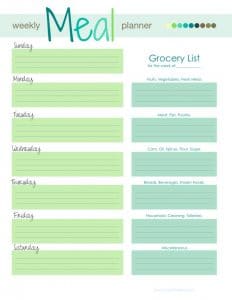 Don't overwhelm yourself by thinking you need to plan an entire week of meals. Start with a two- or three-day chunk and work up to more as you learn what does and doesn't work for your household.
Keep a file of recipes you'd like to try for inspiration. Pinterest is a good resource for this! Create a binder, if necessary, of recipes to try. Make notes on these recipes to know if they are worth repeating. In addition, have a few recipes on hand that are tried-and-true favorites that you and your family really enjoy. A mix of new meals and familiar ones is likely to be the most satisfying.
Add in a large batch meal (i.e. double recipe) so that you can freeze half for later. This is a great time saver! Meals with sauces freeze very well and you can keep them frozen for 6 months or longer.Use your crockpot to help make meals quicker! You can find many healthy recipes for the crockpot that use only a few ingredients. Serve with brown rice and a vegetable and you're all set!
Make versatile meals …. use foods two ways. For example, a main dish chicken and black beans may be served with rice one night and used as a burrito filling another night. Stretch your dollar and your imagination!
Use produce that is in season to keep things fresh (and save you money). You can find a seasonal fruits/veggie chart HERE. Be sure to plan in veggies and fruits into your meals as side dishes or desserts.
Once you've collected your ideas, make a schedule and write up the ingredients you'll need, checking your cabinets and refrigerators so you don't buy what you already have.
Plan a shopping trip – recruit friend or family member to go along and make it something to look forward to!
Benefits of Meal Planning
Saves money!
Saves time!
Avoid waste!
Less stress!
Adds variety! Meal planning is the crucial link to healthy eating! Meal planning is easy to do and should be part of every healthy family's journey.
]]>