Benefits of Nutritional IVs
Benefits of Nutritional IVs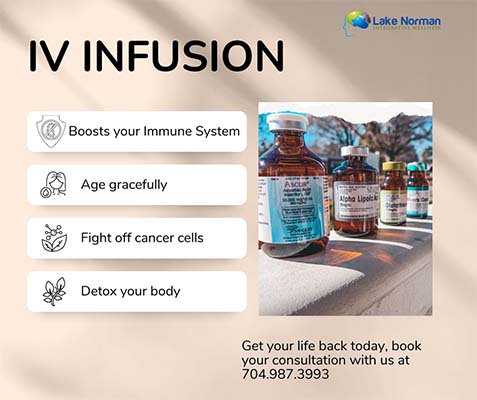 You may have heard IV therapy hyped all over the internet, but IV vitamin therapy is not just another fad. IV vitamins are a safe and effective way to deliver your daily nutrients. The IV route bypasses the digestive system, ensuring that all of the nutrients delivered via IV therapy are quickly absorbed by your body for immediate use. In this brief video blog post we will discuss some of the benefits of intravenous (IV) vitamin therapy including: better absorption rates, increased energy levels, and reduced inflammation.
---
11 Benefits of IV Vitamin Therapy:
IV vitamin therapy provides rapid absorption into the bloodstream.
IV Therapy ensures maximum use and benefit from antibiotics, supplements and medications.
IV vitamins deliver nutrients to your body as soon as they enter your system for immediate use by the cells in your body.
IV vitamin therapy provides your body with a surge of hydration and electrolytes.
IV vitamin therapy boosts energy levels immediately for increased productivity, focus and concentration.
IV vitamins reduce inflammation by washing out harmful toxins from the body while delivering nutrients to your cells that promote anti-inflammatory processes in the body. In other words it detoxifies the body.
IV vitamins boosts and stimulates your immune system and increase the production of white blood cells to fight off infections.
IV vitamins help improve circulation leading to better oxygen flow throughout your body, aiding in recovery from exercise or injury as well as improving energy levels.
IV vitamin therapy helps you sleep deeper and experience more refreshing sleep patterns without the use of medications.
IV vitamin therapy helps reduce the appearance of fine lines and wrinkles by boosting collagen production.
IV vitamins help you lose weight through better metabolism without making any changes to your diet or exercise routine.
We offer a wide range of nutritional IVs at Lake Norman Integrative Wellness as well as Ozone and Ultraviolet Blood Irradiation or MAH - Major Autohemotherapy. Call or email the office today to discuss if IV therapy is something you want to get started with in our clinic today. Phone (704) 987-3993 or visit us on the web at www.drakibagreen.com.